There is such a difference in braking performance between race cars and street cars. The difference is in heat management and materials. We offer world-class rotors and brake pads. Our cross-drilled rotors offer superior heat dissipation and braking effectiveness. Coupled with carbon fiber, semi-metallic brake pad materials, you'll have a combination which will stop your vehicle "like gangbusters."

CROSS-DRILLED ROTORS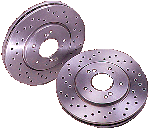 The performance of your brake job is only as good as the parts you start with. That's why at Autospecialty, critical attention is paid to every single rotor they manufacture. Autospecialty is so dedicated to rotor quality, they opened their own manufacturing facility. Whether it's metallurgical content, double discs ground finishing, precision mill balancing or exact adherence to every O.E. detail, their rotors are absolutely the best money can buy. You can install Autospecialty brake rotors with total confidence, because you're using the finest brake rotors made for smooth, consistent, worry-free stops every time. Right from the start, Autospecialty rotors are simply the best you can buy. Standard O.E. rotors are also available.
*POWER STOP is a subsidiary of AUTOSPECAILTY

Key Benefits
Double disc grinding ensures parallelism and leaves a perfect, non-directional finish.
Ground finish eliminates runout and taper. Translation: no more turning rotors before installation.
Precision mill balanced to prevent vibration. Most aftermarket rotors are not balanced at all.
"Heat Dam" and all other structural details are identical to O.E. specs.
Dimensional integrity of cooling fins are true to O.E. "blueprint specs."
At 200 times magnification, micrographs show reveal the rotors are structurally and chemically correct, with the right combination of carbon, silicon and trace elements. Simply stated, the rotors are tougher, providing higher performance and longer wear.
BRAKE PADS AND SHOES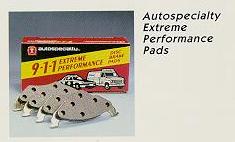 911 Extreme Performance Pads: Proven performance in high brake operating temperatures and speeds. Engineered for superior stopping, high fad resistance and long wear life. Formulated for extreme performance. (Domestic Application)


Axxis Metal Master Pads: Proven high performance stopping power. Excellent pedal feel. Virutally no fade. Improved cold effectiveness. Extended pad life. These are the same pads use on Project Integra GS-R in the April issue of Sport Compact Cars.


METAL-LUX: Premium Quality Semi-Metallic Pads features asbestos-free formula by industry leader ABEX.


SUPER-LUX: Premium Quality Organic Pads features asbestos-free formula by industry leader ABEX.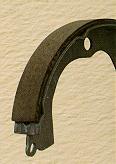 Brake Shoes: Outright program -- no core! High quality, technically advanced lining. Complete import and domestic coverage.

Also Available from AUTOSPECIALTY
Brake Pad Shims
Brake Hardware
Brake Sensor Wires
Drums
Brake Master Cylinders
Wheel Cylinders
Caliper Kits
Brake Hoses
Clutch Sets
Clutch Covers
Clutch Discs
Release Bearings
Alignment Tools
Clutch Master Cylinders
Slave Cylinders
Clutch Cables
Clutch Hoses
Clutch Forks